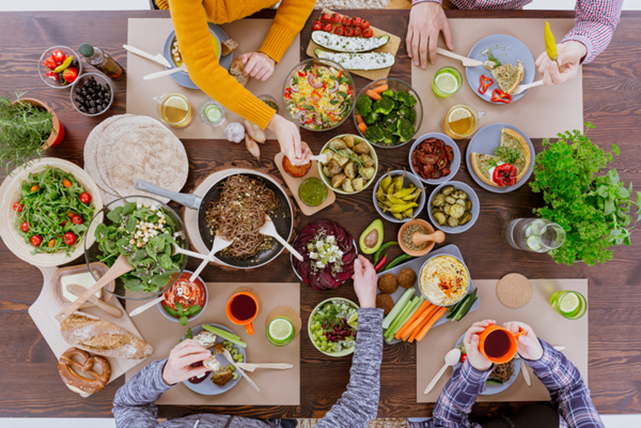 By Jenifer Vogt
There's a myriad of reasons why family-style dining is rising in popularity at restaurants in the U.S. Probably the biggest one is that, while time- and money-saving meal kit services dominated during covid lockdown, people now really want to get out of the house. Family-style dining provides the same value as home-delivery meal kits, but it also provides a hospitality destination where people can enjoy being together for a good meal while somebody else takes care of the cooking, serving and clean up.
Family-Style Dining is Budget-Friendly and Sustainable

"Family-Style Dining" isn't only for families. When you see that phrase on a restaurant menu, it means that portions are, generally, large enough for three or more people to share, but the per-person cost is less than if each person ordered their own entrée.  So, people who bemoan the high cost of dining out, like college students or seniors on fixed incomes, have an affordable option when they dine together. 

Some people assume family-style dining means a ton of food will be left over, but the opposite holds true at sustainability-focused fine dining restaurants, like Ironside, a family restaurant in Miami  where we're committed to minimizing food waste.  Family-style dining allows restauranteurs to offer customers more affordable menu options because it also reduces their overall costs. Savings are shared with customers. This means that, like with home meal kits, there's enough for everyone to feel satiated, but not so much that people are throwing food away — and that's what usually happens when someone doesn't finish a single entrée, even if they take leftovers home.
It's Proven that Togetherness Leads to Wellbeing

When they talk about the big Sunday dinners that used to be commonplace, Italian Americans often wax nostalgic about a bygone era. This tradition that brought families, friends, and neighbors together has decreased in popularity, as has family dining overall in the U.S.  In the past 20 years, the rate at which families dine together has declined by 33 percent, though 84 percent of parents feel it's important to do so. 
Back in the 1950s, a tight-knit Italian American community in Roseto, Pennsylvania first proved a correlation between a sense of belonging and good health. Their rate of death from heart disease was so low that the medical profession coined the phrase, "The Roseto Effect" and the National Institutes of Health (NIH) studied the town for 50 years, also comparing it to a neighboring town called Bangor.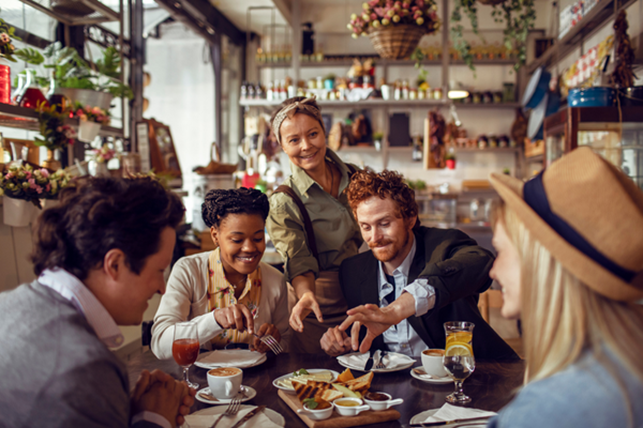 The Roseto Effect referenced the power of community to improve peoples' overall health and wellbeing. Sadly, as the town modernized, the effect didn't last.  The NIH noted, "Rosetans had a lower mortality rate from myocardial infarction over the course of the first 30 years, but it rose to the level of Bangor's following a period of erosion of traditionally cohesive family and community relationships."
Blame technology. Blame workaholism. Blame stress. Blame poor social skills. A multitude of reasons are the culprit, but families are not the only people dining together less. More than half of the meals consumed by older Americans are eaten when they're alone, too, and loneliness is now a public health epidemic. The U.S. Centers for Disease Control and Prevention (CDC) has said that social isolation now rivals obesity, smoking and physical inactivity as a leading cause of death.
People naturally crave connection and for Americans, going out for a family-style dinner is an opportunity to connect. In simpler places throughout the world, however, people don't have to try to make time to be together because community still matters, so it happens naturally. In fact, being together matters the most in the places where people live the longest and are recognized as the happiest and healthiest. After 20 years of groundbreaking research, five locations like this were identified by National Geographic journalist Dan Buettner in his 2009 book, The Blue Zones: Lessons for Living Longer From the People Who've Lived the Longest.
The five places are Okinawa in Japan, Sardinia in Italy, Nicoya in Costa Rica, Ikaria in Greece and Loma Linda in California. Among the nine attributes that they all have in common are being close with family and being part of a community. In these spots, "connecting with neighbors is the norm," Buettner explained.
Cardiologist Dr. John Day also wrote about the connection between wellness and community is his book, The Longevity Plan: Seven Life-Transforming Lessons from Ancient China. 
When he was in his forties, he suffered a handful of chronic health conditions that diminished his quality of life. A colleague told him about a documentary she'd seen about Longevity Village in China. Desperate to feel better, he took his family there to lean their secrets. "…The chronic diseases we have just accepted as part of the aging process in the U.S. don't exist in rural China," Dr. Day explained.
Just like Buettner had, Dr. Day discovered that being a part of a community was of utmost important to these Chinese villagers and kept them healthy. They were also notably happier. They embraced the Day family during two extended visits and Dr. Day immersed himself in their culture. He reveled in the simpler lifestyle and marveled at how often and easily people came together by comparison to the US where people are chronically lonely and two out of three adults are overweight.
Though we have the strongest economy, Americans don't even make the top 20 of the world's healthiest nations. In fact, this year, when Italy was named the healthiest country in the world, in large part because of the power of community and the world's healthiest Mediterranean Diet, the U.S. was listed as an abysmal 45 out of 100 countries. One could speculate that many of the characteristics that lead to wealth and innovation – such as a competitive spirit, ambition, greed and selfishness – are the same ones that contribute to Americans being isolated from each other.
All of this makes a powerful case for prioritizing a time investment in your community and being together with family and friends, Ironside, Family restaurant located in North Miami Beach, offers family-style dining options, and provides a unique destination. The charming dining area is next to a garden with flittering butterflies by day and at night, whimsical string lights imbue a warm golden glow and cozy feel, often with live music adding to the ambiance. Spending time there is very much like being in a piazza in Italy.
Sharing Meals with Mindful People Leads to Healthier Food Choices 

Eating nutritious food gives people the energy to live vibrant, happy lives and those who embrace mindful living appreciate locally sourced, whole foods like those served at Ironside. The NIH has said that making healthier food choices, "…such as eating fruits and vegetables have not only physical but also mental health benefits and might be a long-term investment in future well-being." Popular wisdom says that people become like the five people they spend the most time with. That's a strong argument for finding people living a positive, healthy lifestyle.

One of the reasons people love traveling to Italy is the importance Italians place on community. Travelers often brag about being adopted by Italian families after they've spent time there. They relish that sense of togetherness that Italians prioritize and when they share a meal, they're also sharing the health benefits of the Mediterranean diet. So, those shared meals influence well-being.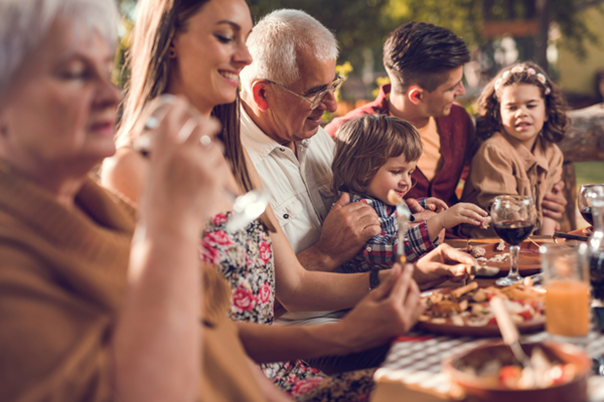 The majority of Americans are the opposite and often make excuses for not spending more time with family and friends, even though they may have a great time when they do. Some people insist they eat healthier when they're alone, but that's not necessarily true. Research confirms that spending time with healthier family and friends can help someone cultivate their own healthier habits. In fact, another NIH survey showed that single and widowed Americans eat fewer vegetables.

The Covid pandemic was a global wake-up call about the importance of good health. The people at highest risk were those with unhealthy lifestyles that led to obesity, diabetes, and other chronic conditions. With all the research demonstrating that being part of a strong family or community has a positive impact on health, Americans must find time to gather more. Given all the innovation and contributions the U.S. is known for, it's remarkable the population is so unhealthy.
How to Connect with People to Plan Family-Style Dinners

Some people are longing to be part of a community, but they don't have one.  They don't know how to find their tribe.  As people get older, it gets harder to meet people, especially in big cities, like in Miami and New York where one can be surrounded by people, yet still feel alone.

Technology has made it possible, however, to virtually make new friends and then people can keep those connections going offline. The internet is not just for online dating. Sites, such as Meetup and Bumble, bring people together for platonic friendships and business networking.  Both offer no- and low-cost memberships. Many groups on Meetup are dedicated to sharing restaurant experiences. 

So, if now you're convinced that you need to spend more time with friends and family, you might have to be the one to make that happen. A great start is reconnecting by text to tell people you're thinking of them. It only takes three minutes, but it makes a difference in terms of cultivating the important relationships in your life. Since connecting is so great for your health, think of it as the modern-day version of eating the proverbial apple and make it a goal to text one person a day just to say hi.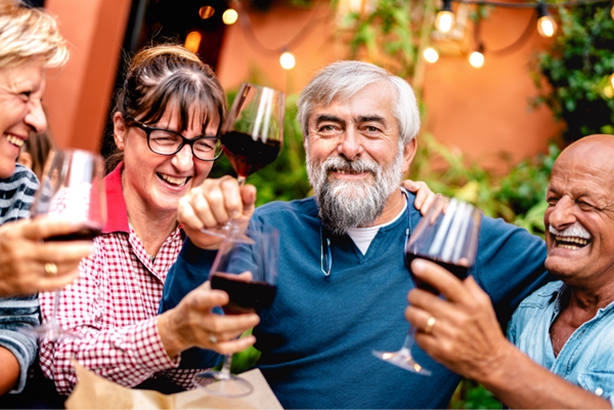 Finally, don't forget that family-style dining is an economical and mindful way to gather with friends and family and that Ironside provides a beautiful location and healthy meal choices. It's up to you to live a healthy lifestyle. Elizabeth Gilbert who wrote Eat, Pray, Love, which included stories about the four months she lived in Italy, wrote, "Happiness is the consequence of personal effort. You fight for it, strive for it, insist upon it, and sometimes even travel around the world looking for it. You have to participate relentlessly in the manifestations of your own blessings."

Buon appetito!