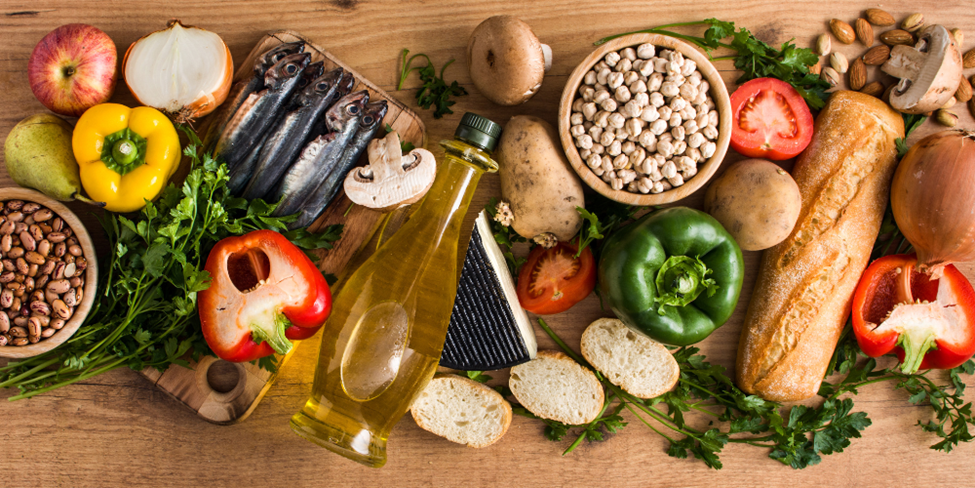 By Jenifer Vogt
"Those who lived in and around the Mediterranean — in countries like Italy, Greece, and Croatia — had lower rates of cardiovascular disease than participants who lived elsewhere. Their diets, rich in fruits, vegetables, legumes, whole grains, nuts, seeds, lean proteins, and healthy fats, seemed to have a protective effect."
~Dani Blum, "The Mediterranean Diet Really Is That Good for You. Here's Why," in The New York Times, January 7, 2023
—
In 2023, for the sixth consecutive year, US News & World Report named the Mediterranean Diet, the healthiest diet in the world. What's remarkable is that, unlike many of the fad diets that dominate headlines, it's simple and easy-to-understand and following this way of eating is both realistic and attainable.
This is good news because, lately, people are talking more than ever about their diet. The covid pandemic was like a universal, health-focused wake-up call that forced people who otherwise may have kept their heads buried in the sand, to confront the connection between what they eat and their physical health. The evidence was ample. It was presented in the daily papers and on the nightly news. People who were unhealthy and overweight were dying from covid at the highest rate.

In 2021, the CDC issued a report that claimed that, for adults, "Having obesity may triple the risk of hospitalization due to a COVID-19 infection." Overweight children had a higher risk, too. Obese COVID-19 patients who were 18 years and younger have "…a 3.07 times higher risk of hospitalization and a 1.42 times higher risk of severe illness."
The Mediterranean Diet can help people lose weight, but there are a myriad of other health benefits that make it the perfect choice for anyone who wants to improve their health, whether or not weight loss is the goal. And, while losing weight can lessen the risk of extreme illness in those who contract covid, being healthier overall will also lessen the likelihood and impact of long-term covid.
According to a study led by Harvard T.H. Chan School of Public Health, "Women who followed most aspects of a healthy lifestyle, including healthy body weight, not smoking, regular exercise, adequate sleep, high quality diet, and moderate alcohol consumption, had about half the risk of long COVID compared with women without any healthy lifestyle factors."
In March of 2023, there was more good news for women who follow the Mediterranean Diet released by Heart, an international peer reviewed journal that keeps cardiologists up to date with important research advances in cardiovascular disease. They found that adhering to the diet may help reduce the risk of heart disease in women. Their researchers found that the Mediterranean Diet, "was associated with a 24% lower risk of cardiovascular disease in women and a 23% lower risk of total mortality."
Just a few days after that news surfaced, another study, done in Great Britain and applicable to both sexes, was released linking adherence to a Mediterranean Diet and a lower risk of dementia. These findings were published in the journal BMC Medicine and are based on data from more than 60,000 individuals from the UK. One of the lead researchers, Dr Janice Ranson, a senior research fellow at the University of Exeter, remarked:
"The findings from this large population-based study underscore the long-term brain health benefits of consuming a Mediterranean diet, which is rich in fruits, vegetables, whole grains, and healthy fats. The protective effect of this diet against dementia was evident regardless of a person's genetic risk, and so this is likely to be a beneficial lifestyle choice for people looking to make healthy dietary choices and reduce their risk of dementia."
All of this research illustrates how, with the Mediterranean Diet, you have a way of eating that not only allows people to achieve and maintain a healthy body weight, but it also protects the body from two of the most common and debilitating diseases, dementia and heart disease. Let's look more closely at the diet itself to understand what foods are included and why they are good for overall health.
What is the Mediterranean Diet?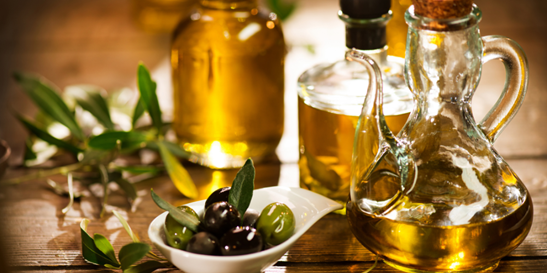 What foods are allowed on the Mediterranean Diet? Are there any forbidden foods on this diet? Can you drink alcohol if you follow this diet? Is this diet only for people who want to lose weight?

Those are among the questions most commonly asked by people who want to learn more about the Mediterranean Diet but don't know where to start. The good news is that this is a remarkably simple way of eating and, it should be noted that, the way the term "diet" is used here doesn't refer to calorie restriction or weight loss, though it can facilitate that. Rather, it refers to the classic dictionary definition of the word. A diet is simply the kinds of foods that a person habitually consumes.
The most important thing to understand about the Mediterranean Diet is that it's considered a plant-based diet. In fact, it's also been named 2023's best plant-based diet. Fresh fruit and vegetables are the foundation of the diet. Unlike with most American meals, vegetables are the main dish, not a side dish or accompaniment to a meat dish. In referring to the Italian Mediterranean Diet, the popular cooking magazine, La Cucina Italiana, calls vegetables the "protagonists" of the meal and continues to discuss the vitamins and nutrients and how the high-fiber content makes one feel full and satisfied.
The article goes on to describe it as such, "One of the strengths of the Italian Mediterranean diet is that your palate is never bored. It satisfies taste without sacrificing the pleasure of good food because it lets you eat in a healthy and varied way. Based mainly on vegetables and fruit, as well as grains and their derivatives, including pasta, legumes, meat, fish, milk, and eggs, it does not entirely rule out those foods that are often banished from other diets, such as pizza, desserts, and cheeses, which can be consumed occasionally…"

Herbs and spices are also as important as grains and vegetables. How the food is seasoned is what makes it so delicious. The fresh and robust flavor is of tantamount importance. In this diet, something as simple as a salad can be one of the most delicious meals you'll ever consume. A big part of that includes dressing made with either regular or extra virgin olive oil, which is one of the staples of the Mediterranean Diet and one of the world's healthiest foods.
At this point, you may notice that meat has barely been mentioned.  Meat and animal-based products, like cheese, definitely have a place in this diet. It's just that their place is not as prominent as most Americans are accustomed to.  Meat is not always the main dish. In fact, it's more often the main dish on special occasions, not during the normal week's menu. During that time, meat is generally used to add flavor. So, only a little meat is added to accentuate taste, like how pancetta is often used in a pasta dish.

Here is a helpful list of the foods that comprise the Italian Mediterranean Diet and some information on their health properties:
Vegetables & Fruits are the foundation of this way of eating. Think tomatoes, eggplant, kale, spinach, Romaine lettuce, broccoli, arugula, squash, pumpkin, onion, carrots, potatoes, avocados, and peppers. Or fruits such as apples, grapes, blueberries, strawberries, oranges, lemons, and limes. Olives are a fruit, too. Any fruit or vegetable you can think of has a place in this diet. The way they are harvested and prepared is key. They are sourced seasonally and locally, so they are at the height of their flavor. Vegetable dishes are often prepared with grains or pasta and olive oil and plenty of delicious seasoning of garlic, herbs, and spices. Harvard's T.H. Chan School of Public Health advises that "A diet rich in vegetables and fruits can lower blood pressure, reduce the risk of heart disease and stroke, prevent some types of cancer, lower risk of eye and digestive problems, and have a positive effect upon blood sugar, which can help keep appetite in check." Staying fuller longer by consuming fiber and nutrient-rich food is why the Mediterranean Diet can help people achieve and maintain healthy body weight, too.
Whole Grains, Bread and Pasta are essential in a healthy Italian Mediterranean Diet, but they're consumed in moderation and are made of nutrient-rich ingredients. So, unlike in the American diet, pasta and bread that are made in Italy are made from high-quality flour that has not been over-processed in a manner that diminishes its nutritional value. Pasta is an affordable and filling option. Pasta and bread are good sources of niacin. Whole, unprocessed grains are omnipresent, too. Many delicious, traditional Italian recipes use Farro, a whole-grain wheat with a nutty flavor, as their main ingredient. The traditional Easter pie, pastiera, relies on wheat berries for texture and flavor. Wheat berries are not processed but are the edible part of the wheat kernel with only the husk removed because that's not edible. People who regularly consume whole grains have a lower risk of diabetes, heart disease, and high blood pressure.
Nuts, Beans & Legumes are also a staple in the Mediterranean Diet. Hazelnuts are probably the nut people most often associate with Italy because of how much Italians love Nutella. After that, most may think of pignoli nuts because of the Italian cookies they're found on. According to Healthline, "Nuts are high in fat, low in carbs, and a great source of several nutrients, including vitamin E, magnesium, and selenium." Beans are the seed from different plants while legumes are plants with fruit that grows in pods. Legumes include peanuts, lentils, black-eyed peas, soybeans, and peas. Beans include Great Northern, kidney, pinto, and black beans. Italians consume these at least once or twice a week and some common varieties found in the Italian kitchen are cannellini and fava beans. Legumes and beans are high in fiber and protein but are also low in fat and full of nutrients. They are also very filling and have a substantive texture. This makes them a great substitute for meat and explains the popularity of plant-based meat products that are made from them.
Olive Oil is in almost every dish one can think of in the Italian Mediterranean Diet, ranging from the base for tomato sauces to the ingredient that makes baked goods moist. The health benefits of olive oil are almost too many to list!  It's truly an elixir for good health. While regular olive oil is healthy, extra virgin olive oil is a healthier choice because it has not been processed with heat. It's cold-pressed and this preserves beneficial antioxidants.
Fish & Seafood are consumed on a weekly basis. Fish like salmon and sardines contain heart-healthy omega-3 fatty acids and are low in saturated fat. The American Heart Association encourages people to consume fish at least twice per week. They advise that "Fatty fish like anchovies, herring, mackerel, black cod, salmon, sardines, bluefin tuna, whitefish, striped bass, and cobia are high in omega-3 fatty acids."
Eggs, Cheese & Yogurt have a place in this way of eating, but they're consumed in moderation. They are not eaten in the same quantities, or portion sizes, that Americans consume. A great example is an authentic Greek salad. The feta cheese adds flavor, but it's not the chief ingredient. Another example in Greek cuisine is the Tzatziki sauce used, in small amounts, as a type of dressing. This is also a great example of the beauty of Mediterranean food because: 1) it's rich in flavor and texture, 2) it's made with a few fresh ingredients, and 3) it's very simple to make. Dairy products are an excellent source of protein and calcium.
Water and wine are the traditional beverage choices in the Mediterranean Diet. Water is consumed frequently and wine is consumed in moderation, no more than two glasses per day. Drinking enough water is one of the simplest ways to improve and maintain your overall health. It impacts everything from your mental clarity to your physical performance. Consuming moderate amounts of red wine is linked to heart health. Red wine contains healthy antioxidants.
Meats and Sweets are also consumed in moderation. In the traditional Mediterranean Diet, red meat is consumed rarely, not even once per week, but it appears on the menu more frequently in modern interpretations and in the Italian Mediterranean Diet. However, the portions are smaller and healthy, not super-sized, except on rare special occasions where a tasty meat dish might take center stage, as with La Fiorentina[1] .  So, the health benefits, such as iron, are realized, but the negative qualities, such as high saturated fat, are minimized.  Sweets are consumed even less regularly and the use of sugar is very minimal.  Some people omit refined sugar entirely.  Sugar is devoid of nutritional value, but it does add pleasure to life and we do need pleasure for happiness and happiness is good for your health, too!
Those are the basic foods you'll find in the Mediterranean Diet, but if you want to deepen your knowledge and explore recipes and menus, there are many wonderful sites you can visit. The following are some favorites.
Why the Mediterranean Diet is Good for the Planet
We've discussed why this way of eating has been named the healthiest diet in the world.  Now, we're going to explore why this diet is also good for the planet.
How can a diet be good for the planet?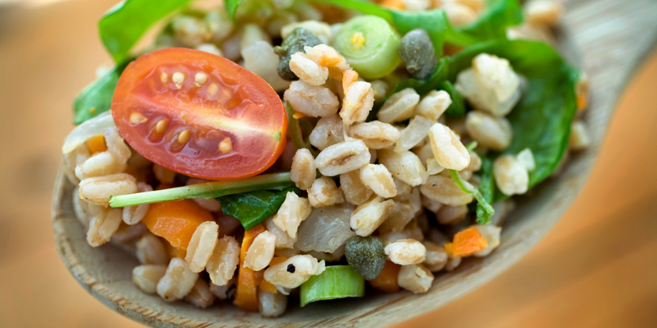 Well, the answer to that question is that the Mediterranean Diet emphasizes consuming seasonal fruits and vegetables and sourcing locally. It makes sense because produce that's in season and sourced locally has the most flavor and nutritional value. A lot of flavor and nutrients are lost when produce travels great distances to get to the grocery store.
Consuming less meat and processed foods also has a profound positive impact on the environment. In 2021, the UN reported that the way we produce, process, and package food is responsible for over one-third of global greenhouse gas emissions humans cause. A study of these emissions, conducted from 2003-2018, concluded that animal products and heavily processed and packaged foods typically require considerably more energy to produce than foods at local farmers' markets. The study stated that five commodities are the culprit in more than 75% of the U.S. diet's carbon footprint: beef, milk and dairy, pork, chicken, and eggs. More than half of those greenhouse gases are attributed solely to beef.
So, by adhering to the Mediterranean Diet and consuming fewer animal products and more local, plant-based foods, you can positively impact the planet.  You can eat in a way that is healthy and good for you, but you are also making the world a better place and supporting the UN's 2030 Agenda, which is something Toscana Divino Hospitality Group takes very seriously.  They have made a substantive investment in integrating the UN's 17 Sustainable Development Goals into their operations across all their restaurants. 
The star of all their kitchens is, of course, the Italian Mediterranean Diet, which supports their philosophy: eat well, live well. Food is the foundation of life. However, it's about so much more than just a diet for Italians. This is a way of being. With its focus on simplicity, nature, and pleasure, the Italian Mediterranean lifestyle espouses the proverbial, "la dolce vita," that Italy is known and admired for. The British luxury lifestyle reporter, Robin Leach summed it up best when he remarked, "In Italy, they add work and life onto food and wine."
Experience the Best of the Italian Mediterranean Diet at Ironside Pizza.
At Ironside Pizza, we take pride in being more than just a family-style restaurant in Miami. We are part of the Toscana Divino Hospitality Group, a company that wholeheartedly embraces the values of sustainability and the Italian Mediterranean lifestyle. By choosing Ironside Pizza, you not only indulge in delicious cuisine but also contribute to making a positive impact on the planet and supporting the UN's 2030 Agenda.
Buon Appetito!