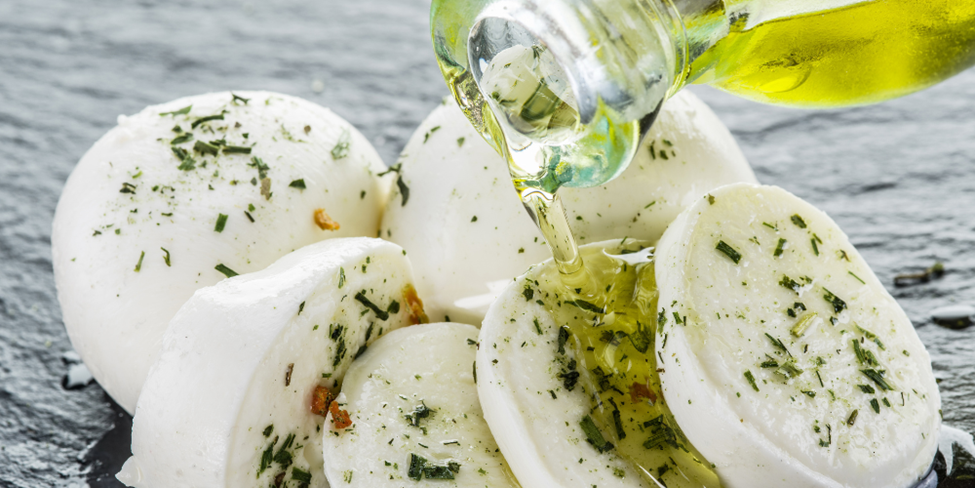 By Jenifer Vogt
"I rip open a packet of buffalo mozzarella, ivory spheres floating in a milky womb. I drain the liquid and cut a thick, creamy slice. Placing one of my runaway tomatoes on top, I stand at the kitchen counter and eat, the yellow oil running down my chin. It was rich and full. Like summer and sunshine."
― Hannah Tunnicliffe, The Color of Tea
There's something about the creamy texture and slightly salty, milky flavor that makes mozzarella cheese appeal to just about everyone. It'd be hard to find a person who doesn't love it. Taste Atlas awarded it first place in its 2023 list of the world's most popular cheeses.
Mozzarella places first in terms of versatility, too. It's the ultimate comfort food, which can be served atop pizza, fried up as sticks, warmed with peaches and honey, or soaked in olive oil with vine-ripe tomatoes. Everyone has their favorite way of eating it and its enormous range makes mozzarella kind of like the Meryl Streep of cheeses. Iron Chef Masaharu Morimoto has even said, "I put Italian mozzarella cheese with sashimi."
Mozzarella can be made from either whole milk or buffalo milk, though you're more likely to find a common use of the former in the US and the latter in Italy. When it's made with whole milk, the label will read, fior di latte. The fresh version of both types is always packaged in water to preserve its creamy consistency. Whole milk mozzarella has a milder flavor and a more pliable texture that makes it more amenable to cooking. Buffalo milk mozzarella has a more delicate texture and richer flavor that makes it better in cold dishes and salads.
The History of Mozzarella in Italy
Like many authentic Italian foods, Mozzarella has a history and folklore surrounding its origins and, while it's now made all over the world, in Italy there's a consortium that unifies and oversees producers. This section about the history of mozzarella is relevant only for the authentic Italian mozzarella that is made in Italy from buffalo milk.
Mozzarella was first created in the Campania region in the South of Italy. Even today, this region is considered the mozzarella capitol of the world. And, as anyone who has tasted it will attest, it's still where you find the world's best mozzarella.
It's a known fact that one of life's sublime pleasures is to enjoy the region's fresh mozzarella atop authentic Italian pizza in Naples, the capitol of the region and, arguably, the pizza capitol of the world. Naples is so famous for pizza that, in 2017, UNESCO added the Neapolitan pizza-making tradition to its list of Intangible Cultural Heritage sites. However, mozzarella is, primarily, produced in the provinces of Caserta and Salerno, which are located outside of Napoli.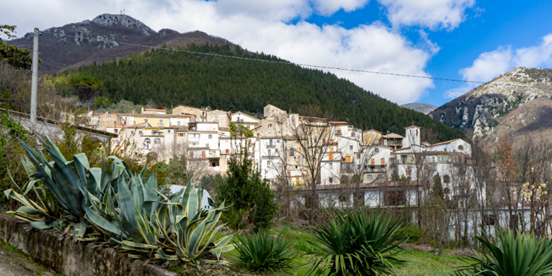 According to the Consorzio di Tutela Mozzarella di Bufala Campania DOP, mozzarella was first made in Campania with buffalo milk, as it's still made there today. They explain:
"… the first historic documents testifying to the production of Mozzarella di Bufala Campana go back to the 12th Century. According to a number of manuscripts, the monks from the monastery of San Lorenzo in Capua habitually offered a cheese called mozza or provatura (when smoked), accompanied by a slice of bread, to the pilgrims of the Metropolitan Chapter who, every year, walked in procession up to the Convent's church."
Monks have contributed a great deal to the culture of Italy. It's interesting to note that Italian monks are also credited for creating Italy's other famous cheese, Parmigiano Reggiano
The consortium is a trade association, created in 1981, that does a few different things. First, it promotes Mozzarella di Bufala Campania DOP both within Italy and around the world. (You can actually follow the consortium on Linkedin: https://www.linkedin.com/company/consorzio-tutela-mozzarella-di-bufala-campana-dop/). This includes educating consumers about why the buffalo milk mozzarella produced in Campania is the best of all the types of mozzarella. It has earned the EU's DOP stamp, which is a quality stamp that ensures the product is made in a certain region and adheres to high-quality production standards.
The Consorzio di Tutela Mozzarella di Bufala Campania DOP is the only body recognized by the Italian Ministry of Agricultural, Food and Forestry Policies for the protection, supervision, enhancement, and promotion of mozzarella in Central-Southern Italy, the only mozzarella on the global market that has the DOP designation. Producers only use whole buffalo milk, in addition to rennet and salt, which, compared to cow's milk, is much richer in protein, fats, and mineral salts.
The consortium also facilitates a strong and supportive community of business owners. Their membership consists of cheese producers and farmers. Many of the companies are family-owned and operated and have been passed down from generation to generation. They agree to follow the consortium's Code of Conduct, which includes presenting an annual anti-mafia certification and committing to "…correct and loyal behaviors in accordance with the strict restrictions established by the members."
The consortium's commitment to excellence can't be understated. It's emblematic of consortiums found throughout Italy that safeguard the DOP designations of Italy's finest foods. They guarantee the consistent superiority of Made in Italy products that are enjoyed by global consumers.
Italian Buffalos Do It Better
Mozzarella di Bufala Campania DOP is made from the milk of Italian Mediterranean Buffalo. They're also referred to, more commonly, as Water Buffalo because they spend half their day submerged in water. Their splayed hooves make it possible for them to move freely in mud without sinking too much. They are the world's largest bovines and can weigh over 2500 pounds and grow to 6' tall.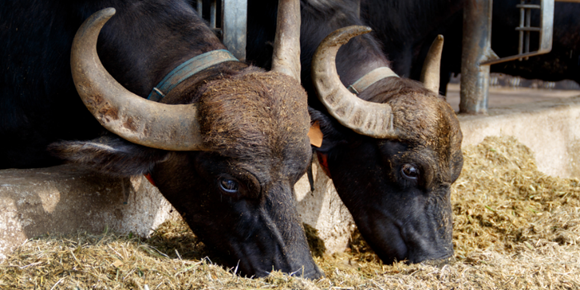 These buffalos can be traced back to the 10th century when they arrived in Sicily following its invasion by the Saracens and Moors. At some point in the 11th century, the swamping of the coastal planes alongside the Volturno River in Caserta and the Sele River in Salerno happened and this created the perfect environment for raising Water Buffalo. By the 15th century, the round buffalo barns, known as bufalare, were built. By the 18th Century, Mozzarella di Bufala Campania was widely consumed.
By the 20th Century, poet and author Rocco Scotellaro was writing about the affection the Drovers—the name of the cowboys who herd the buffalo—had for their female buffalo and how they gave each an affectionate name based on its characteristics, such as Lovely or the Countess. Today, there are guidelines in place for how these animals are bred and raised.
According to the website for the Consorzio di Tutela Mozzarella di Bufala Campania DOP, they, "…require loose or semi-loose stabling of the animals in open air paddocks. There is a fundamental requirement for large watering places given the propensity of the buffalos to wallow in swamp environments."
While the Italian ones associated with mozzarella are probably the most famous, Water Buffalo are also a remarkably important animal in terms of agriculture and revenue outside of Italy. Their size and strength make them capable of tilling fields and that can help farmers plant four times as many crops. Through the organization, Heifer International, you can actually gift a Water Buffalo to an impoverished family in India, southeastern Asia or South America who will greatly benefit from having a sustainable source for food and income.
Mozzarella is a Healthy Choice
Whether it's made the traditional Italian way with buffalo milk, or the more prevalent way with cow's milk, mozzarella is a remarkably healthy cheese that can be enjoyed, in moderation, as part of a healthy Italian Mediterranean Diet. As mentioned earlier, its versatility means it can be used in just about any type of dish one can think of.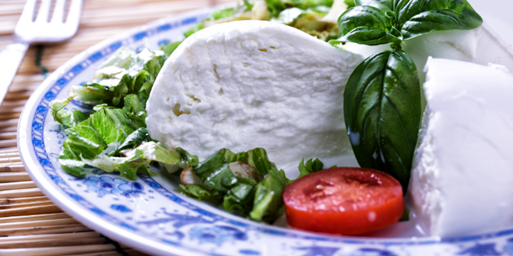 Many people love the Caprese Salad often seen on menus at fine dining restaurants, like Ironside Pizza, a family-style restaurant in Miami, where they've given it a special twist. They make their Caprese with ripe, heirloom tomatoes, extra virgin olive oil, and fresh basil, but instead of the traditional mozzarella, they use Burrata. This is made from cow's milk mozzarella, but it has a creamy center that's a little bit like ricotta, but its texture is not quite as mushy. It's a bit more substantive and tastes more like fresh cream.  Most people would agree that burrata elevates mozzarella as comfort food to an even higher level.
Whatever way you enjoy it, you can be certain that, if it's fresh and served by a fine dining restaurant like Ironside Kitchen that values quality ingredients, there are many nutritional benefits to this delicious cheese. Some of them are noted below.  However, it's important to note that, either way, mozzarella cheese is a high-fat, animal-based food. This means that people who are trying to lose or maintain weight or are monitoring their health for various medical reasons, should moderate their consumption.  It can be part of a healthy Italian Mediterranean Diet but, in this diet, meat and dairy are consumed infrequently, or in smaller amounts than what the typical American diet would consist of.
Also note that when we refer to the health benefits of mozzarella, we're talking, specifically, about fresh mozzarella packaged in water or prepared daily and served soon thereafter. The blocks of mozzarella cheese, cheese sticks, or packages of shredded mozzarella that you encounter in the grocery store are not the same. One must read their individual nutrition labels to understand their pros and cons.
Top 5 Health Benefits of Cow Milk Mozzarella
It's a great source of Biotin also called Vitamin B7, which promotes healthy hair, skin, and nails.
It's rich in Vitamin B2 or riboflavin, the part of the vitamin B complex that helps the body fight ailments like migraines and anemia.
It contains Vitamin B3 or niacin, which plays a pivotal role in turning fat into energy and helps control cholesterol, and can guard against diabetes and arthritis.
It's high in protein, which means it can boost muscle mass and keep your energy level stable.
It contains a high amount of calcium, a mineral that keeps your teeth and your bones strong and healthy. Calcium also safeguards the heart.
Source: Health Benefits of Mozzarella Cheese
Top 5 Health Benefits of Buffalo Milk Mozzarella
It has less cholesterol than cow milk mozzarella, so it's a better choice for those monitoring their heart health, though it's still high in fat, so moderation is the key.
It's high in protein, essential for the growth and development of healthy children, but also essential for adults, particularly older adults who benefit from increasing the protein in their diet.
It contains Vitamin A and Vitamin C in significant enough amounts that its consumption may boost immunity.
It has more calcium than cow's milk, so it's better for healthy bones and to ward off osteoporosis.
It has more potassium than cow's milk, which means it can help regulate blood pressure.
Source: 5 Wonderful Benefits of Buffalo Milk
Where to Find the Best Fresh Mozzarella in South Florida
You will find delicious and fresh mozzarella on the menus of all the restaurants owned and operated by Toscana Divino Hospitality Group. You can also find it at any of the many authentic Italian eateries throughout South Florida and at gourmet markets, like Whole Foods, or any of the Italian specialty food markets, like Doris Italian Market & Bakery.
If you want a special treat, you can drive to Pompano Beach in Palm Beach County, about 40 minutes north of Miami, to visit the authentic Italian mozzarella maker, Vito Volpe, who owns and operates Mozzarita, and you can watch him and his team making the cheese by hand every day!
Mozzarella is a wonderful cheese with a fun and interesting history. Its omnipresence on pizza is likely one of the chief reasons why it's considered the world's favorite cheese, and also one of the most-consumed. But if you've only ever eaten the kind served on pizza, or made into the mozzarella stick appetizer, you might want to expand your horizons. Fresh mozzarella is a different experience in terms of both taste and texture. And, if you've had fresh, but never tried the buffalo milk kind, add that to your Bucket List because it's even tastier and creamier.
Whichever kind you choose, the one thing you can always be certain of is that mozzarella is one of the world's best, feel-good-taste-good comfort foods.
Buon Appetito!